Designing an entire yard to be both attractive and useful to wildlife can be frustrating if you don't have an eye for that sort of thing. Even just a flowerbed design can be a challenge if one doesn't know what to plant or how to place plants together for a good visual presentation. Sample landscape designs are available on numerous websites. Even if the designs don't fit your needs exactly, they'll give you ideas. Don't let the size and complexity of a design discourage you. Your backyard wildlife habitat can be as simple as you want.
The following designs will give you some ideas to help you get started. They call for the use of plants, mostly natives, that are beneficial to wildlife as either food, nesting or shelter. You'll notice each plan calls for species suited to a particular region of the U.S. Many of the plants will grow well in other regions, too, so research the hardiness zone and growing requirements of plants that interest you. Your County Extension Office will have lists of wildlife-friendly species suitable for your locale. You'll probably find some landscaping ideas there, too.
Be sure to choose plants that flower at differing times through the season so there will be continuous provisions for wildlife. Keep in mind the mature size of plants and space them accordingly. Follow links on this page to see more plans.
See: How to design a backyard wildlife habitat
Northwest: Plan for dry, sunny location
This design is from the King County, Washington Information and Services. You'll find more of their useful plans here. A very cool feature on their site: Click on any plant symbol to bring up information about that species.


Plant list for Northwest sunny, dry location



West: xeriscape plan for dry, sunny location
Xeriscape plants are drought-tolerant once established, requiring little to no supplemental irrigation. You'll find more xeriscape plans for the West here.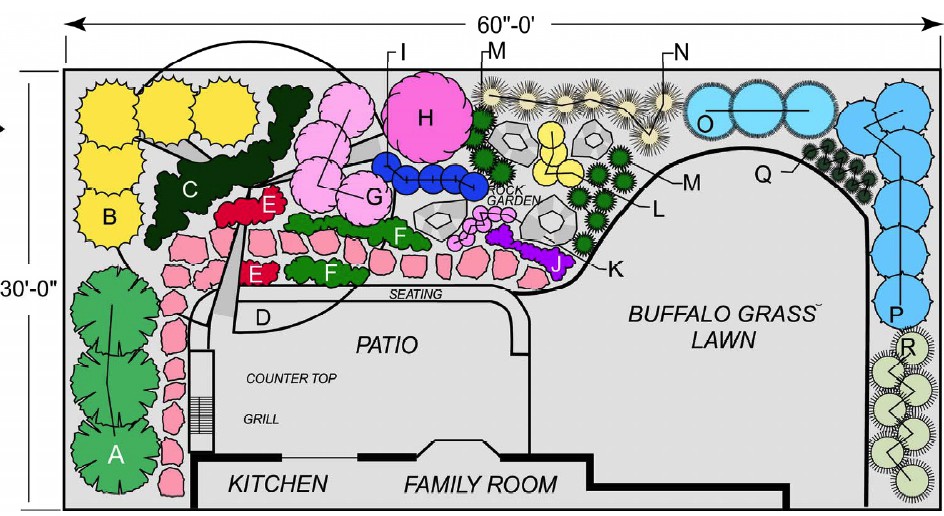 (Sarah Delaloye / Denver Water Department; PD)


Plant list for xeriscape plants in a dry, sunny location

¹Introduced species, ²hybrid variety, ³non-native. Consider swapping non-native and hybrid plants for native varieties.

Midwest: plan for sunny location
(Jay@MorphoLA – Flickr; cc by 2.0)
More reading
Find lots of information about design, as well as a sample plan here.
If you use Pinterest, be sure to look at this page.